Well-Being and Team Building Days - on the water
As individuals, everyone needs a day of rest once in a while, a day off, a break from reality, and no matter who you are, there is someone out there who needs it more than you.  As a group, a business, or an association, there are times when working closely with one another for long stretches can be tasking..., and you aren't the only one feeling that way.  If you feel it in yourself, or you see it in someone else, it's alright to take a break, and please believe us, there is no better way to unplug for the day then spending it on the water.  Being an Arizona non-profit, part of our mission is to try and help.  Be it on a sail or powerboat, when we leave the dock, a sense of calm falls over the boat and you will head home at the end of the day feeling refreshed, rejuvenated, calmer.
If you work with a group, a non-profit, a Vet or a group of Vets, active military or their families, and you think that a day of sailing or motor boating would do everyone some good, please call.  We will accommodate your schedule and needs, and please know, both of our 37' sailboats (one is shown to the right...) and three of our powerboats are handicap accessible, so please contact us.
We are looking forward to helping our community in any way possible.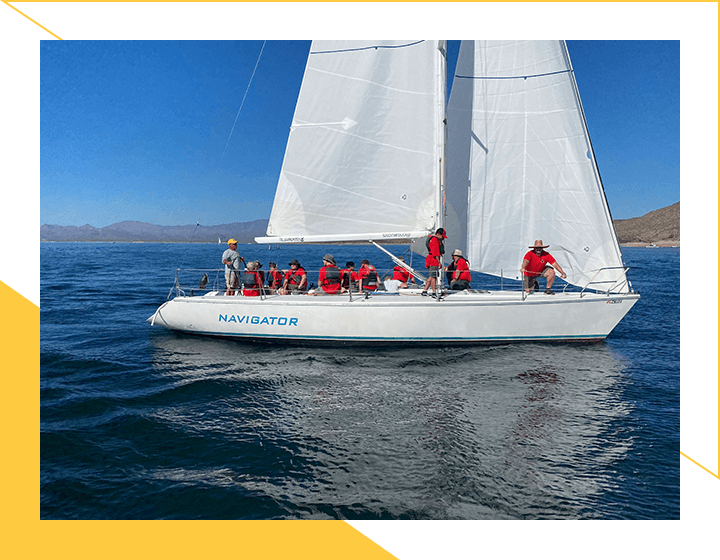 Sailing a large boat requires everyone on the boat to play an equal hand. The Catalina 37 boats need at least eight people to sail well and can handle up to 12 people per boat. This means that everyone on the boat is equally needed, shares responsibility fully, and has to learn how to sail and play as a team at the same time. This makes sailing the perfect team-building exercise, whether it is for kids or for corporates.
Our CEO, having spent time at GE Capital, IBM, and Cisco Systems, has attended many team building days and participated in the activities.  He will tell you unequivocally, racing sailboats against each other, as a team, where every team member is needed during maneuvers, beats them all.
One group, two teams, friendly competition..., sound fun?  Please contact us.